Ah, product launches, how we love you. The elaborate set dressing, the canapés, the free booze, the goodie bag, the celebrity presenter, the hash tag...
To the
Arches
for the release of
AnCnoc's
peated whiskies, Rutter, Flaughter, and Tushkar. Even before I entered the launch space I could smell the smoke. Dimly and dramatically lit, it was hardly the best environment to taste anything for the first time (especially from the big mouthed tumblers the whiskies were served in), so I bravely resolved to stuff my face with nibbles, drink whisky, and network.
AnCnoc is a sweet, light dram. It calls itself Highland, although if you ask me it's a fine example of the Speyside style. There are peated Speysiders to be found, but not many of them. AnCnoc have chosen to go for a light smoking, with the added twist that the peatiness is defined according to the level in the new make spirit, rather than, as everyone else does, by reference to the barley. Clever marketing, or merely thrawn?
I tried the Rutter with a tiny blue cheese topped biscuit served from a smoke filled glass dome. It was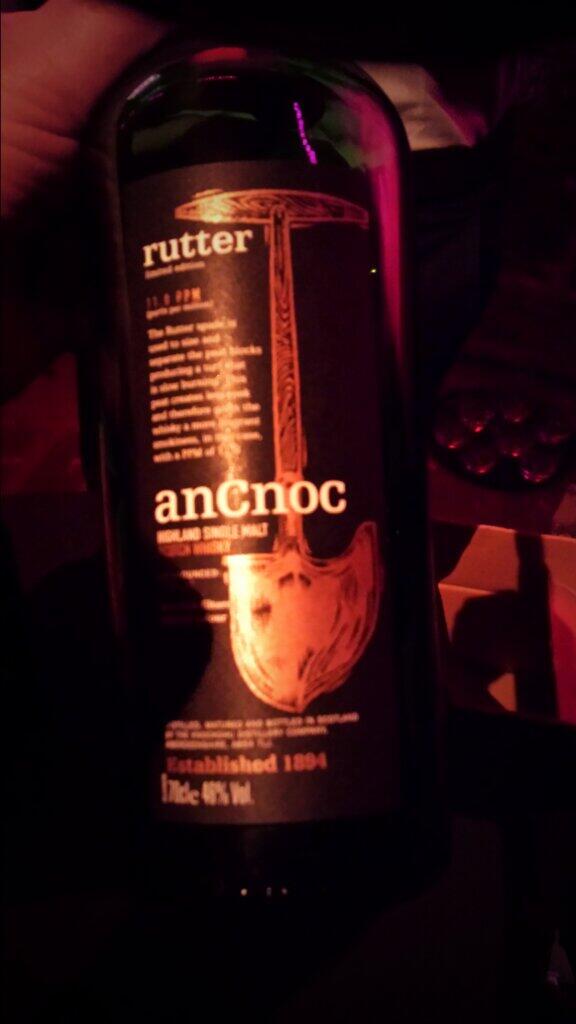 delicious. I've no idea what fraction of the deliciousness was whisky-based, but delicious it was.
The Flaughter didn't seem to go so well with some chestnut cream filled macarons, but on the other hand the mini edible peat bogs complemented it superbly. I ate at least five.
The Tushkar? Well, it's a bit thicker or oilier than the other two, I think. And somewhat smoky.
I left, clutching my loot, having failed to network, and reflecting on the whiskies. I like the Rutter best, because it retains most AnCnoc character, combining sweet barley notes with light, dry smoke. The other two are good, but they could be from any number of distilleries.
My ratings: